Do you have a pet with Hypothyroidism? Then here are the 10 Best Dog Food for Hypothyroidism that you should definitely consider!
Having a pet can be a huge responsibility, and one of the biggest concerns as a canine parent is keeping your pet healthy and happy. Unfortunately, much like us, dogs can develop thyroid problems. However, with proper medication, nutritious meals, and ample physical activity, you can ensure that your dog remains healthy despite these issues.
Dealing with hypothyroidism can be tricky, especially when it comes to picking food that will work best to maintain your dog's health and fitness. But, if you know what you are looking for and what you need to stay away from, you can make your decision easily and confidently.
There are innumerable dog food varieties available in the market, and while it is usually easy to simply pick any one of these appealing options, choosing one that will be suitable for a dog with hypothyroidism can be especially daunting.
Your dog's health is always the top priority, so we have come up with a list of dog foods that are best suited for dogs with hypothyroidism.
Hyperthyroidism vs Hypothyroidism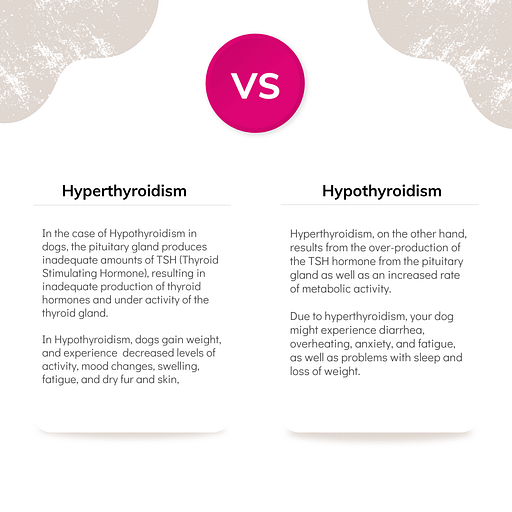 Before you go out and make a purchase, you should familiarize yourself with the illness itself. The thyroid gland is located in the throat and is responsible for the release of the hormone that makes sure that the body is using the energy effectively.
The hormone secreted by the thyroid gland affects the functioning of the brain, heart, muscles, and organs. The malfunctioning of the thyroid gland can result in one of the two kinds of thyroid ailments- Hyperthyroidism and Hypothyroidism. The hormone output by the thyroid gland is the primary difference between the two.
In the case of Hypothyroidism in dogs, the pituitary gland produces inadequate amounts of TSH (Thyroid Stimulating Hormone), resulting in inadequate production of thyroid hormones and under activity of the thyroid gland. As a result, the functioning of the thyroid gland slows down and negatively impacts the dog's bodily functions and metabolism. If for some reason, your dog is unable to produce an adequate amount of thyroxine, it results in hypothyroidism.
The symptoms of hypothyroidism in dogs are weight gain, decreased levels of activity, mood changes, swelling, fatigue, and dry fur and skin.
Hyperthyroidism, on the other hand, results from the over-production of the TSH hormone from the pituitary gland as well as an increased rate of metabolic activity. Thyroxine, which is released by the thyroid gland directly, affects your dog's metabolism and health. If for some reason your dog is unable to release enough of these particular thyroid hormones, it results in Hyperthyroidism.
Due to hyperthyroidism, your dog might experience diarrhoea, overheating, anxiety, and fatigue, as well as problems with sleep and loss of weight. Obesity, thinning and falling hair and flaky or thick skin are also symptoms that you should check for. In some cases, Hyperthyroidism can also result in the growth of a tumour. 
Both hyperthyroidism and hypothyroidism are serious illnesses, but are different from one another and exhibit different symptoms. It is always a good idea to get your dog tested if you suspect it might be suffering from thyroid problems, rather than diagnosing them yourself since incorrect diagnosis and treatment can further aggravate these health issues and worsen the conditions.
What to Look For When Choosing Dog Food?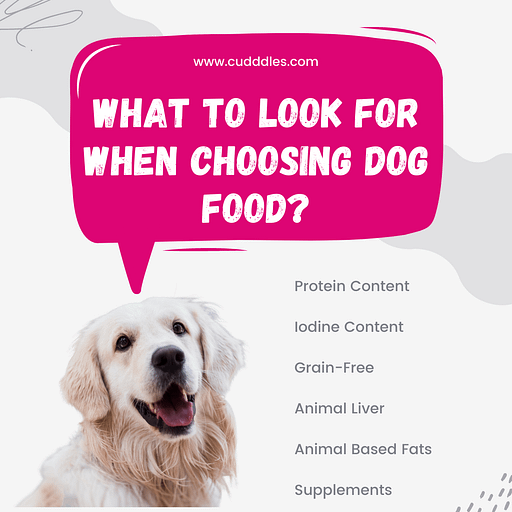 Usually, simply picking a brand or variety that seems healthy can be good enough.
However, when shopping for a dog with hypothyroidism, uninformed decisions are not enough.
You must know what you are looking for which ingredients you want and which ones you don't want so that your dog can enjoy the best possible quality and care.
Here are some things you should look for when shopping for food.
Protein Content
While considering food options for your dog, you must pay special attention to the protein content they offer. Premium animal proteins are essential for canines suffering from hyperthyroidism, as they help maintain healthy body weight and lean muscle mass.
Due to hypothyroidism, your dog is more likely to easily gain weight, which can negatively impact its health. So, you should consider including animal protein in your dog's diet, to curb the accumulation of fat in the body.
Iodine Content
Iodine promotes the production of thyroid hormones and reduces the symptoms of hypothyroidism. Iodine, however, is often not present in dog food. You can easily purchase dog-friendly iodine to add to your canine's food bowl.
Fruits and Vegetables
Fruits and vegetables are good sources of nutrition for your dog and provide the appropriate vitamins and minerals required for consistent and good health. The consumption of fruits and vegetables provides for a healthy and active dog.
Quality
The quality of the food you give to your dog will impact their health heavily. It is important to make sure you are providing them with the best quality food consisting of natural and wholesome ingredients. Your dog's food must also be easy to digest since the rate of metabolism is affected negatively by hypothyroidism.
Grain-Free
If the dog food you use has high grain content, it can lead to unhealthy weight gain, which is extremely harmful to a dog suffering from hypothyroidism. Corn, wheat, and soy are often used as fillers in dog food and should be avoided. These fillers are sometimes produced with GMOs (Genetically Modified Organisms) and are not beneficial in any way. Some dogs are also allergic to these grains, so it is a good idea to check the ingredients before you purchase any dog food.
Animal Liver
Animal liver is rich in folic acid, Vitamin A, Vitamin B, and iron. It improves the functioning of the thyroid gland. While purchasing dog food, you should try to choose one that contains animal liver.
Animal Based Fats
Side effects of hypothyroidism such as dry skin can be improved with help of certain animal fats. These fats are a good source of omega fatty acids and can be found in food items such as chicken fat and salmon oil.
Supplements
Thyroid problems in dogs can be improved with the consumption of glandular supplements. You can add these supplements to your dog's foods and mix them in since they are rarely added to dog foods as an ingredient.
Breed
Some options available in the market cater specifically to the needs of a particular breed. While considering what to buy, you should keep an eye out for such breed-specific varieties.
---
What to Avoid When Selecting the Best Dog Food for Dogs With Hypothyroidism?
Just like you need to look for beneficial ingredients, you also need to make sure you are not giving your dog anything which could cause potential harm. There are certain ingredients that can deteriorate your dog's health and strength, so you should know what these are in order to avoid them.
Gluten
Your dog's unstable thyroid levels will cause trouble with digestion, and a diet full of grains will only aggravate these issues. So, you should look for a dog food that is free of grains that have high gluten content.
Beef Byproducts
Consumption of beef byproducts is also a cause of hypothermia in dogs. They worsen the dog's health, and so it is a good idea to avoid them as much as possible.
Fillers
Fillers are those ingredients in dog food that do not provide any nutrition and serve no purpose. They hinder the efficient absorption of nutrients into the body and should be avoided too.
Artificial Additives
Artificial preservatives, colors, flavors, and ingredients should not be a part of your dog's diet. They can impact the thyroid gland and cause further harm. So, you should check to make sure that the food you are giving to your dog consists of natural ingredients only.
Now that you know what's good for your furry best friend and what isn't, here's a list of the best dog foods for hypothyroidism.
---
10 Best Dog Food For Hypothyroidism
1. Taste of the Wild Stream Canine
First, on this list, we have Taste of the Wild dog food, which is one of the best options available for dogs suffering from hypothyroidism.
The smoked salmon in it provides your dog with the high protein content and amino acids that he needs for healthy and lean muscles.
It contains fruits and vegetables that supply ample minerals and vitamins and the high antioxidant levels ensure that your canine is as healthy as he or she can be.
This dog food comes with probiotics which aid with digestion. This product contains high-quality ingredients and is free of any grains that might cause harm.
What we like:
– High protein content
– Grain-free
– Contains probiotics and antioxidants
What we dislike:
– This product is species-specific
---
2. Blue Buffalo Protection Adult Formula
Our second option is known to strengthen your dog's immune system and can even be considered an all-natural way to keep hypothyroidism in check.
It contains fatty acids such as omega 3 and 6, which help maintain healthy fur and skin.
The chicken in it acts as a source of high-quality protein, and the surplus carbohydrate content boosts your furry friend's energy levels.
This option too is packed with ample antioxidants, as well as vitamins and minerals derived from whole grains and homegrown fruits and vegetables, which boost the pup's metabolism, and it also contains oatmeal and brown rice which improve digestion.
Blue buffalo's dog food also contains natural glucosamine which helps with joint problems.
What we like:
– Contains omega fatty acids
– Contains homegrown fruits and vegetables
– Improves metabolism
What we dislike:
– Not grain-free
---
3. Wellness Natural Original
This third option is one of the best that you can choose for your little bundle of joy. It is packed with proteins and nutrient-rich superfoods and provides for a well-balanced diet, which is helpful for dealing with hypothyroidism.
It contains no useless fillers and comes with fresh meat ingredients that help your dog build lean and strong muscles.
Wellness natural dog food provides antioxidants, glucosamine as well as probiotics, which provide strength and energy to your pup.
The salmon oil and flaxseeds provide fatty acids like omega 3 which ensure healthy skin and fur. The lack of fillers, artificial flavor, meat by-products, and preservatives make it a perfect fit for a diet restricted by hypothyroidism.
Moreover, it is suitable for all dog breeds, making it a convenient choice.
What we like:
– No fillers or additives
– Fresh meat ingredients
– Offers a balanced diet
What we dislike:
– The package is not resealable, meaning the food tends to go bad easily if not stored properly.
---
4. Canidae All Lifestages Multi-Protein Formula
Our next pick contains fish, lamb, turkey, and chicken meals, which provide ample protein to your dog. Its whole foods recipe and lack of fillers make it a healthy and reasonable pick.
The added probiotics improve digestive health and the antioxidants it contains boost the immune system. It also has a high content of fatty acids – omega 3 and 6 enhance skin health and improve the coat's shine.
This option contains animal protein as well as fresh fruits and vegetables which improve overall health, making it a reliable option for dogs dealing with hypothyroidism.
What we like:
– Contains whole foods
– Contains fatty acids and antioxidants
– Probiotics aid digestion
What we dislike:
– Not grain-free
---
5. Purina Pro Plan Shredded Chicken
This high-quality blend of rice and chicken provides your dog with all the nutrients he needs to maintain a healthy body and supplies him with loads of energy, effectively countering laziness.
Uneven thyroid levels often lead to accumulation of fat and unhealthy weight gain, but this protein-rich food will prevent that from happening.
Chicken is the primary ingredient, making this a good source of protein.
It contains live probiotics too, which improve digestion, as well as immunity – tackling some of the major concerns related to hypothyroidism.
The addition of vitamin A, omega 6 fatty acid and linoleic acid results in healthy skin and a luscious coat.
What we like:
– Improves digestion as it contains probiotics
– Strengthens immunity
– Contains quality protein
What we dislike:
– It comes in a shredded form, which some dogs might not like
---
6. Hills Science Diet
Hills science diet is one of the best dog foods for dealing with thyroid issues and is suitable for dogs of all ages.
Since it is full of high-quality nutritious ingredients such as chicken, lamb, and salmon protein, it ensures that your canine remains in good health, and the high protein content facilitates improves lean muscle mass.
The presence of omega 3 fatty acids and vitamin E improves skin and fur health while the presence of antioxidants strengthens immunity.
It does not contain any added flavor, color or preservatives, and proves to be one of the best natural remedies for hypothyroidism.
What we like:
– Suitable for all ages
– Improves immunity and skin and fur health.
– Contains ample meat protein
– No additives
What we dislike:
– It is only meant for toy and miniature breeds
---
7. Whole Earth Farms Grains Free
This option provides your dog with a nutrient-filled diet, and is grain-free, as the name suggests.
The high-quality USA-sourced ingredients such as real beef, lamb, pork meal, thyme, sage, and dried blueberries are all beneficial for your dog's health.
It also contains probiotics which are good for sensitive stomachs.
The lack of artificial coloring, flavoring, and preservatives makes it a lucrative choice.
Since it does not contain any filler and is full of vitamins and minerals, it is a good choice for a dog with hypothyroidism.
What we like:
– Grain-free
– No additives
– Provides necessary vitamins and minerals
– No fillers
– Ingredients sourced from the USA
What we dislike:
– Contains meal protein
---
8. Wag Dry Dog Food
This wag turkey recipe dried food provides your canine with lean protein to facilitate lean muscle mass and healthy body weight.
The dried fermentation supplement ensures a healthy digestive system and the vegetable content provides phytonutrients, vitamins, minerals, and antioxidants.
This dog food contains turkey as the main ingredient, meaning it has high protein content.
The chicken fat in it allows for better skin and fur health, making it a good pick for dogs with hypothyroidism. It also contains lentils, salmon oil, and flaxseeds which are good sources of omega 3 fatty acids, making it a holistic meal. This option is free of any added grains, colors, flavors, or preservatives and will work to improve your dog's health.
What we like:
– Facilitates the maintenance of a healthy digestive system
– No added preservatives, flavors, or colors
– High protein content
– Contains vegetables and omega 3 fatty acids
What we dislike:
– None
---
9. Gentle Giants Canine Nutrition
The Gentle Giants dog food contains all-natural, GMO-free ingredients and is fit for dogs of all ages, breeds, and sizes, including those with sensitive stomachs.
This option contains New Zealand Green Mussels, which is a superfood that helps your pup maintain healthy joints and reduce inflammation. It also contains natural glucosamine as well as dried fruits and vegetables which are easy to digest.
The kibbles have a low rate of saturated fat inside and are free of any greasy saturated fat covering, making them a nutritious option.
This dog food also contains probiotics and prebiotics which facilitate intestinal health and is full of supplements such as Vitamin A, C, E, B12, Niacin, and Taurine which facilitate the absorption of nutrients and improve digestion. This product can be purchased for all breeds and not just big ones.
What we like:
– Contains superfoods
– Contains probiotics and prebiotics
– Filled with supplements
– GMO-free
What we dislike:
– Only contains meat meals and not real meat
---
10. Nutro Ultra Large Breed Adult Dry Dog Food
This adult dry dog food is full of proteins that have been specifically formulated for large breed dogs.
This option contains a blend of fifteen quality superfoods such as coconut and kale. It contains lamb and salmon and has chicken as the primary ingredient.
The absence of added preservatives, color, fillers, and flavor ensures that your dog only consumes the best quality ingredients which are fit for him.
What we like:
– Contains numerous superfoods
– High protein content
– Lack of additives
What we dislike:
– Only for large breed dogs
---
FAQ
We know it can be daunting to deal with health issues when it comes to your furry best friend. The illness can be scary, but if you know what it entails, you can do your best to keep your dog healthy and safe. We have answered some of the most basic and frequently asked questions about hypothyroidism so that you can maintain your peace of mind and know that you are providing your dog with appropriate care and treatment.
Can Dogs Have Thyroid Related Issues?
Yes, it is possible for dogs to develop thyroid problems, though it is most common in old and middle-aged dogs.
What Are the Symptoms of Hypothyroidism?
While it is important to be perceptive when it comes to your pup's health, you should avoid self-diagnosing him or her. It is always a good idea to visit a vet if you have any suspicions so that you can take appropriate actions and follow instructions given by a professional.
Easily identifiable symptoms of hypothyroidism include changes in the dog's fur and coat and their visibly poor conditions. Inexplicable weight gain and laziness, dull and weak mental state and inability to deal with physical activities, and low temperatures are some of the symptoms. Other, more severe symptoms might be extreme hair loss, loss of muscles, slow heart rate, toenail and ear infections, and seizures in extreme cases.
Can Hypothyroidism Cause Seizures?
Seizures occur due to an imbalance of thyroid hormones. Fewer amounts of thyroxin in the body make your dog more prone to seizures. However, hypothyroidism is not the only cause of seizures, and it is possible that there is something else that is causing them.
Can the Dog Eat Before a Thyroid Test?
To ensure accurate test results, you should make sure that your dog does not eat anything for at least four hours before the blood is taken for the test. If your dog is already taking thyroid medication, you should wait for four hours after administering the medication, but make sure not to wait more than six hours after the medicine has been taken. This means that you have a window of two hours to get the test done.
Can Hypothyroidism Cause Death?
While hypothyroidism itself does not usually cause death in dogs, it can significantly worsen their overall health conditions. Hypothyroidism can also make other illnesses more serious, and it can also make the dog more prone to various other diseases since it weakens the immune system. If left untreated, it can cause adult-onset megaesophagus, which can result in death.
Thyroid carcinoma, which is a form of cancer-related to the thyroid, can also be a remote possibility. However, you must keep in mind that it is possible for you to keep your dog's health in check. As long as you get them tested and treated, and take action after educating yourself thoroughly about the condition and what it entails, you will not face any serious issues. You want what's best for your dog and its health, and if you do your best to provide for its specific needs you will be alright. 
Conclusion
We hope this article has been informative enough to help you, and that our specially curated list has provided you with enough healthy options to choose from. Though hyperthyroidism is not a dietary ailment, altering your dog's food intake to make sure it caters to their needs will leave you with a healthy and active dog.
Now that you know what's good for your dog and what isn't when it comes to this health problem, you can trust yourself to make good, informed decisions about their food and health.